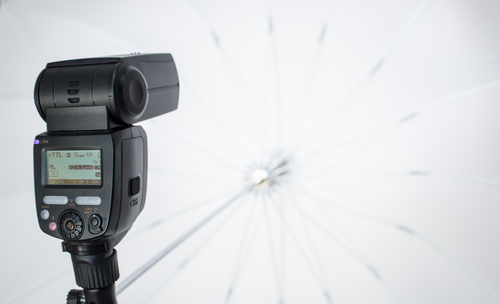 What to Wear for Your Portrait
Follow These Guidelines for a Successful Portrait
Choosing the right clothing for your portrait is a critical factor in the preparation for a successful portrait. If the clothing is noticeable in a portrait, it can easily become a distraction. Clothing that does not attract attention to itself is the ultimate goal. In all cases avoid strong patterns, bold stripes or checks. It could be the difference between a very successful portrait and just another picture. I can not stress enough how important it is for you to observe the following criteria.
Dark Clothing Has a Slimming Effect
If you are being photographed in the studio, dark clothing helps to blend the bodies with the background, if the background is dark in tone. It allows the faces to become the most important part of the photograph. Dark colours definitely tend to make the subject appear slimmer. The colour of the clothing should always be toned down. Bright colors attract attention away from the face. Colours must be dark and not bright. This is very important. Prints and any kind of pattern – no matter how small – become a distraction. Light colours seem to add weight to the bodies.
High key photography (white or very light backgrounds) are best used with young children, brides in their gowns, or thin people. Wearing light colours is then appropriate, but the rules regarding patterns remain the same!
Avoid Short Sleeve Clothing And Short Pants
Long sleeves are more flattering, as are warm colours and soft fabrics. For casual portraits it is equally important to wear long pants instead of shorts. When arms and legs are exposed to the camera there will be more flesh in the photograph in those areas than on the face itself. This is a major distraction. White shirts under dark jackets is suitable for a more formal portrait while a soft turtleneck or mock turtle neck makes for a nice more relaxed portrait.
Group Portraits
Clothing for group portraits must be carefully selected to blend the individuals together. First, decide whether the basic tone of clothing is going to be warm-toned (browns etc.) or cool-toned (blues/grays/blacks etc.) Then make sure to follow all of the above instructions, always remembering that the mood of the portrait should be followed by all the individuals in the portrait. For example, if one person is wearing a dark suit, another is wearing a pullover, and another is wearing a silk blouse, the overall result will be drastically reduced – even if they are all in the same colour tone. It's best if everyone dresses either casually or dressy. The choice is up to you, but it must be consistent!
Proper Necklines For A Portrait
The most flattering neckline for anyone is something that comes up close to the neck. A wide opened neckline tends to thicken the neck in a photograph. On the other hand, a neckline that comes up to the base of the neck – a turtleneck or a v-neck top is the most flattering. It tends to slim down the person and frames the face beautifully.
When you are deciding what to wear, lay out all the clothing onto a bed. Shoes, socks, stockings (dark is best), everything should be included. Then, take a careful look at the collection. If your eye goes to any one item in particular, you can be certain that the same thing will happen in a photograph. That item must be changed.
Clothing should not be too tight or too loose. Clothing below the waist must be darker than above. Otherwise, even light jeans worn below a darker top could easily attract attention to the lower part of the body and away from the face.
Ladies, for a natural portrait, wear the clothes you and your friends like the best – not necessarily the newest you have.
Gentlemen, it is advisable to shave as late as possible before the sitting. Casual clothes in addition to a suit will create more variety, they may even help you to relax.
Casual Beach Portraits
For a beach portrait session it is sometimes a good idea to dress in light colored clothing, so that the bodies will blend in with the light colour of the sand. Dressy clothes are not appropriate at the beach! In this situation, all white or pastel clothing will work fine. All white works great. White shirts and jeans work well, too. White shirts with beige pants is even better. Staying in all light tones works well in this environment. Still remember to dress everyone in the portrait similarly. You have to blend the bodies of everyone together, so that the faces stand out. This essential in group portraits.
Hair Style And Makeup
Hair styles must be simple and off the face. Hair falling down onto the sides of the face creates distracting shadows. Fringes that are too long will keep light from getting into the subjects eyes – the most important part of the face. Eye makeup should be blended – no sharp demarcation lines between colours.
Avoid white above the eyes. It does not photograph well at all. Too much colour above and below the eye attracts attention to itself. It actually takes attention away from the eyes, rather than a attracting the viewer to the eyes. Foundation makeup should be blended below the jaw so that there is no visible demarcation between the face and the neck.
Glasses
Eye glasses may or may not be worn. Non-reflective lenses, of course are a big help. Better yet, sometimes it is possible to obtain a set of frames without lenses. This is particularly helpful if your lenses distort the outline of your face.
Your portraits are meant to be enjoyed for generations to come. Fad-type clothing should be avoided, unless you are planning to have new portraits made annually.
Children
Beware of new clothes bought "to grow into". Shirts hanging from shoulders and cuffs turned back look untidy, better to wear an old favourite. Where possible, cover boys' legs with long trousers and if girls are to wear tights, choose a dark colour. Babies and toddlers look more attractive with bare feet and legs.
Do not tell young children beforehand that they are going to be photographed. The least said the better. There is no need to warn a child to sit still, to be good, or to smile. Where some special expression is desired, or must be avoided, please tell me – do not tell the child. When arranging the appointment do not hesitate to tell me, but not in front of the child, if he or she is exceptionally shy or nervous. If I am warned, I can take steps to secure satisfactory results.
It is wiser not to have friends or relatives present to "see the show". Apart from the fact that a group of adults watching makes the child apprehensive, it is not desirable to have too many people present during the sitting.
If you follow these simple clothing guidelines you will see the amazing impact they have on the success of your portrait.